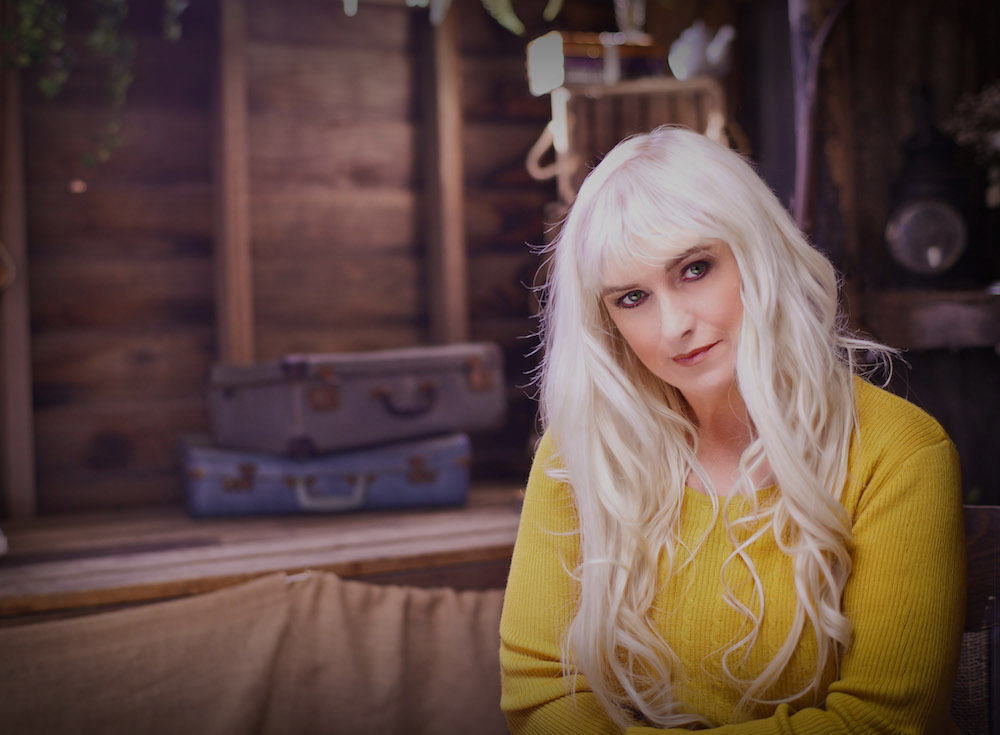 Aly Cook calls Tasman home even though she is more widely known musically in Australia and Britain. LYNDA PAPESCH talks to one of New Zealand's largely unrecognised music stars.
Last year set a new career high for Tasman singer/songwriter Aly Cook. Three No.1 country radio hits in Australia, plus making the finals of the New Zealand Woman of the Year competition, added to what is already an impressive list of accomplishments.
Fresh back from performing and filming with a full production crew at Tamworth in Australia, she's already planning her next few ventures. One of those is a 13-part Country Music TV series, some of which has been filmed in Nelson/Tasman. The series will screen once a week on Britain's only full-time country music channel, Keepitcountry.tv, on Freeview, which beams into 19 million homes across the UK.
"I am totally inspired to drive the ability for independent musicians to succeed by example," says Aly. "Producing Kiwi Country is about this and celebrating our unrecognised amazing talent as well as celebrating our rich country music past."
Four episodes of Kiwi Country are dedicated to New Zealanders in Tamworth, which have just been filmed. Aly interviewed several high-profile country artists in Tamworth and New Zealand about fellow Nelsonian Tex Morton, who in the 1940s to 1960s became the grandfather of Australian country music. A bronze bust of Tex stands in Centennial Park in Tamworth.
On the way to Tamworth Aly stopped in Auckland and filmed a video for her next single, Western Line, featuring Brendan Dugan, Nik Brown from the Warratahs and Peter 'Rooda' Warren, formerly of DD Smash and now playing with the Narcs. The video releases in March.
Nelson born and bred, Aly is talented, a bundle of energy at the best of times, an active relaxer and someone not afraid to speak her mind, even though it has possibly been to her detriment on the New Zealand music scene.
Aly was an outspoken critic in the 1980s, in the company of people like actor/musician Bruno Lawrence, calling for local music quota on NZ radio and criticising the New Zealand On Air funding scheme for musicians. She – like many before her – finds the Australian music scene more to her liking.
"I'm not critical of the people running the New Zealand On Air scheme, but of the criteria that the funding is not evenly distributed across the various music genres. Occasionally there is a bit of country music, but you don't see modern jazz artists funded, or blues, or heavy metal.
"And it's not the artists who pick up the funding money, but the record companies, some of which goes to multi-nationals. It's still Government funding, so as far as I'm concerned it should not be available to multi-national companies. Both as a taxpayer and a musician I don't agree with that at all. The funding should go to independent New Zealand-owned companies."
While New Zealand is home, Australia has embraced her talent more readily. Aly's No.1 hits over there are based on airplay ("so the numbers can't be influenced").
"Unlike New Zealand, there are also lots of community radio stations in Australia and people tend to listen more to the small locally broadcasting stations." With an agent in Australia, Aly is a popular radio guest, with up to 10 interviews a week broadcast.
Causes are dear to her and she helps if she can – one reason she has twice been a finalist (2011 and 2016) in Next magazine's New Zealand Woman of the Year award, in the Arts & Culture section, for inspiring women to follow their goals with passion, and for her exceptional contribution to world causes.
As an example of the latter, while preparing for her recent European tour, Aly was approached by the founder of the Forever Changed Campaign to write the song for the cause. She immediately penned Forever Changed, which played globally in a documentary of the same name about informed choice of alternative treatments for cancer.
She often helps young independent artists looking to break into the [Australian] music scene, and has assisted the Uncle Jimmy Thumbs Up scheme working with children in a remote area near Uluru (Ayers Rock), assisting Aboriginal youngsters using music. "Uncle Jimmy is inspired by the work of legendary Australian artist Jimmy Little. The programme uses the medium of music to get lessons across, for example using songs about how to eat vegetables to encourage healthy eating."
On the local scene Aly's name may be recognised more for her event planning skills. The recent SnapaFest, the Battle of Trafalgar and Nelson's first Cider Festival, all late last year, have used her skills in various capacities. She works largely for international promoters like Sam Righi on the recent Andrea Bocelli tour, and is involved with action stunts show Nitro Circus (here Feb 6) and the tour by motivational speaker Simon Sinek in March.
Music and horses
So just who is Aly Cook and what drives her? From her pre-teen years, music and horses were her two main interests, although today the former takes centre-stage more often than the latter.
Attending Tahunanui Primary School, Broadgreen Intermediate and then Nayland College, this daughter of a migrant couple (Swiss mother/English father) also learnt her lessons at home.
"Mum and Dad came out in the 1960s, just outside the '£10 Pom' period, bringing my older brother with them. Dad Alan Cook was always self-employed; a work ethic Aly also embraced. "When they first arrived in Nelson, he worked for Coles for a short time before starting his own business as an electronics engineer, custom-building home stereos. Mum [Pierrette] did the business books."
Aly credits her love of music to her late father, a former concert violinist who studied opera at the Guild Hall in London. "Right from a young age I had music in my life. Dad would have me turn my back to the piano. He'd play a note and I had to say what note it was."
She started classic piano lessons aged 10, and horse riding around the same time. "A lot of people are into both music and horses, I find. It has to do with the cadence, the rhythm etc. It's also a good life balance."
As soon as she reached 15, Aly quit school and started her musical career in earnest, singing in covers bands in and around Nelson. "I remember sneaking into taverns to sing because I was too young to legally be there."
A year later, aged 16, she witnessed the death of her boyfriend in a skydiving accident at Nelson Airport. That focused her thoughts and shaped the drive and determination she has today.
"His chute didn't open, and he died in front of me. That gave me a new respect for life; the reality that it could all be over in a flash. From that moment forward, I have lived every day to the fullest. I still do."
Having self-employed parents added to her drive. "I learnt early on not to be dependent on an employer; to earn my own money for survival."
After a few jobs locally, Aly took off to Australia, aged 18, singing in covers bands up and down the Queensland coast. To earn extra dollars, she worked for promoter Kevin O'Neill, who ran tours to Darwin, scripting his posters initially and then progressing to event organising, advance publicity and tour co-ordinating – while still performing.
The years ticked by and Aly found herself working for Bullens and Edgley Ventures on touring events, everything from using the biggest tent in the world for a tour by legendary ice-dancers Torvill and Dean to the Andrew Lloyd Webber musical Starlight Express.
Fifeshire concert coup
A trip home to visit her parents in Nelson in the late 1980s saw her running the Fifeshire Radio Concert, celebrating the station's full-time on-air status. A stellar line-up included Icehouse, Boom Crash Opera and Nelson-born Sharon O'Neill, before a crowd of 9000 at Trafalgar Park. That forged a relationship with Sharon that still exists today. She sang a guest vocal on Aly's first album and Aly has sung live with Sharon on a number of shows.
"She's like my Nelson soul sister and I still try to catch up every visit to Sydney. I love her so much; she's just awesome."
The visit pre-empted Aly's move back to New Zealand in the early 1990s, to live in Auckland and start her own company called Te Aroha Records. Still involved with the entertainment industry running shows, she also found time to put out Tama Renata's first album and to sing with Rick Bryant and the Jive Bombers.
Following a split with her then partner, Aly literally ran away to join the circus, the Moscow Circus that is, spending 15 months touring Australia and New Zealand with the Edgley show. "Around Australia we travelled with 14 semi-trailers and played all the major event centres, before heading across to Taiwan.
"Then Mum suffered a stroke so I came back to Nelson to look after her."
Still singing, Aly teamed up with friend Ross Wilson, and while performing with him one night in Nelson in 1993 she met her future husband, Andrew Dodson. He has no connection with the entertainment industry whatsoever, says Aly, and this provides the perfect balance in her busy work/home life. Married for 23 years now, and parents to Bailey (20), Drew (17) and Melody (15), the couple live on a farm at Kina.
Andrew encourages Aly to sing and write. "He accepts that I have to sing and to travel, and has never held me back. I have remained as the person he met."
Starting a family didn't hold her back either. Aly had made many valuable contacts in the entertainment industry, and social media helped her to re-connect with them. "Social media has been great and I embraced it early. In 1992, as soon as the Internet became available, I was all over it," she laughs.
Taste Tasman 'wonder-mum'
When 2005 rolled around, the children were at Tasman School when parents mooted the first Taste Tasman as a fundraiser. "I was part of a group of seven wonder-mothers who ran the first one with a budget of $1300. Four thousand people attended."
Taste Tasman proved an award-winning idea, and was a chance for Aly to 'dip her toe' back into entertainment. She helped to run it for three consecutive years.
The years since have been good, although a fall from her horse in 2006 resulted in a back injury that put paid to her show jumping. Undaunted, she transferred her efforts to breeding, selling several horses locally and in Australia and in 2009 one to the King of Bahrain.
She added another accolade to her CV when in 2011, while on a tour in France with her family, they became perhaps the first New Zealanders in 23 years to attend a commemorative service in Sassenay for a Kiwi who had been shot down during World War 2. On August 15, 1943, Flight Lieutenant Royston Taylor was part of an eight-strong international crew who died when their RAF plane crashed in a field near Sassenay after being attacked by a German night-fighter. A local youth was also electrocuted by downed powerlines as he approached the crash site to help the airmen.
The people of Sassenay believed the crew sacrificed their own lives to avoid crashing in the village. Some 2000 people from around the region gathered for the airmen's funeral, in defiance of their Nazi occupiers. A number of villagers, including the mayor, were later imprisoned.
Every year on August 15 Sassenay holds a memorial service for Taylor and the other airmen. In 1988 residents unveiled a monument to the crew, but because of tensions over the Rainbow Warrior sinking, no New Zealand military personnel attended. When Aly learned of the continuing absence, she voiced her outrage and campaigned for change. New Zealand is now represented at each memorial service.
Auckland author Lynn John has written a book and screenplay about the incident. He and Aly hope it will make it to the screen one day.
Crowd-funding for albums
Aly is still busy, meanwhile, with singing, song writing, touring and event managing as well as several charitable causes. She discovered crowd-funding and became only the fifth person in NZ to crowd-fund an album. Now she has raised more than $100,000, producing two albums and a number of music videos.
Over the last couple of years her performances have included opening for Melissa Etheridge, REO Speedwagon and Huey Lewis and the News before 20,000 people in Taupo, opening for Roseanne Cash in Poland, Laura Bell Bundy in Italy, and performing at the Sydney Opera House for The Jimmy Little Foundation Fundraiser.
Last year her second album, Horseshoe Rodeo Hotel, racked up three No.1 hits on Australia's Top 40 Country Tracks Chart, starting with the single Midnight Cowboys. That paved the way for Message in a Cloud, and late last year Kimberley also hit the top spot.
Aly's songs come from her heart, not fitting a particular genre. She writes about life and experiences, places she's been and people she's met; songs about the spiritual message of Uluru, about the amazing Kimberley region of Australia, the 'midnight sun' in Norway and about travelling on Sydney trains.
Unknown Memories was inspired by Aly and brother Ian's discovery in 2010 of a previously unknown half-brother, Les, who lives in the UK.
She describes her music as cross-over. "Some of it falls into country; some of it is barely country. I write where it falls, as opposed to trying to fit a specific genre."
An image of Aly features in Volume: Making Music in Aotearoa, an exhibition now on at the Auckland War Memorial Museum, in partnership with the New Zealand Music Hall of Fame.
"The image of me that was used was taken by Australian photographer Russell Johnson from Wagga Wagga, who travelled to New Zealand for a photoshoot as part of a music video shoot for the single Midnight Sun.
"It's a very Nelson/Tasman affair, not only because I'm from the region, but also because the guitar featured is handcrafted by Nelsonian Russ Mattsen, and I'm wearing a dress by Nelson designer Donna Robertson."