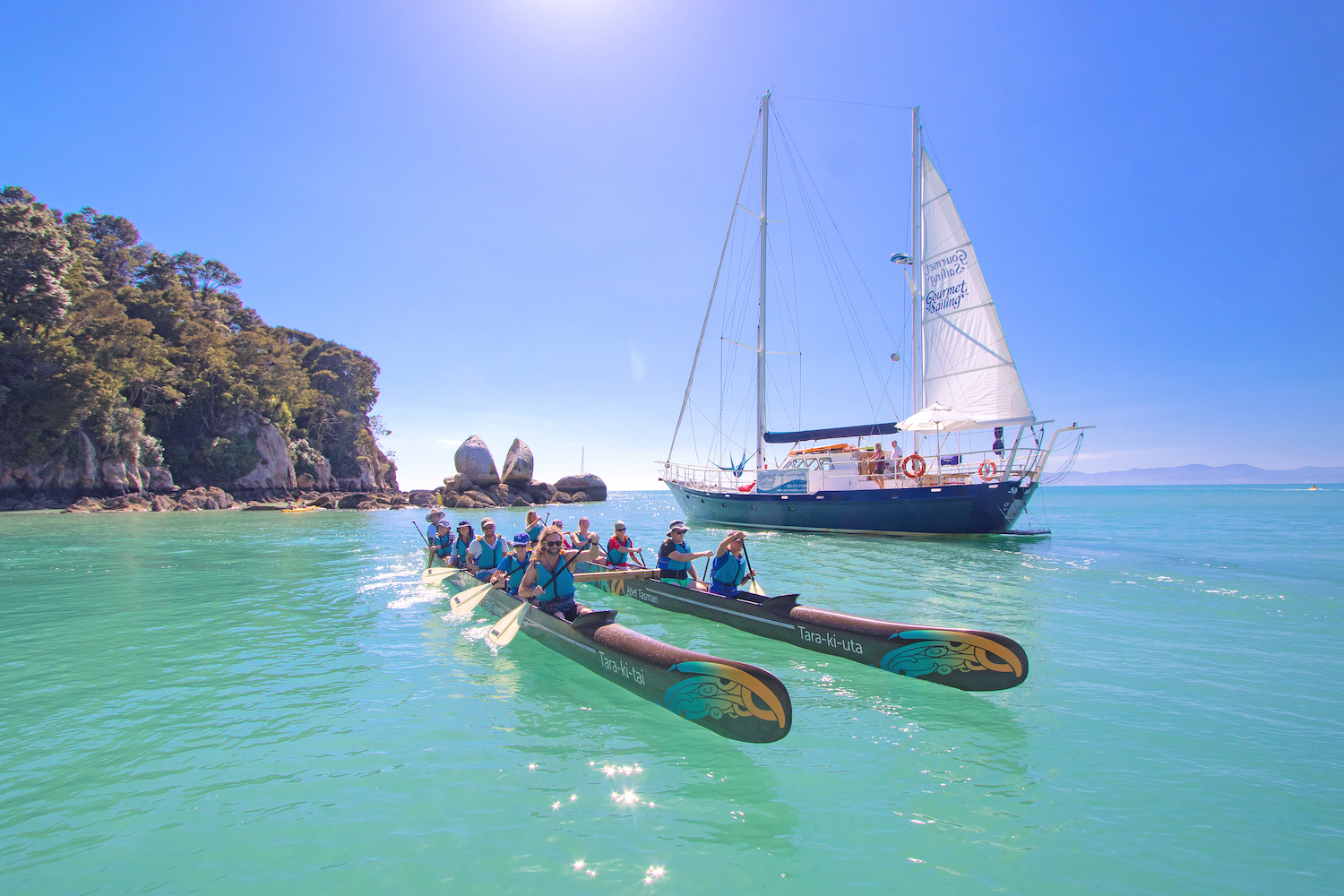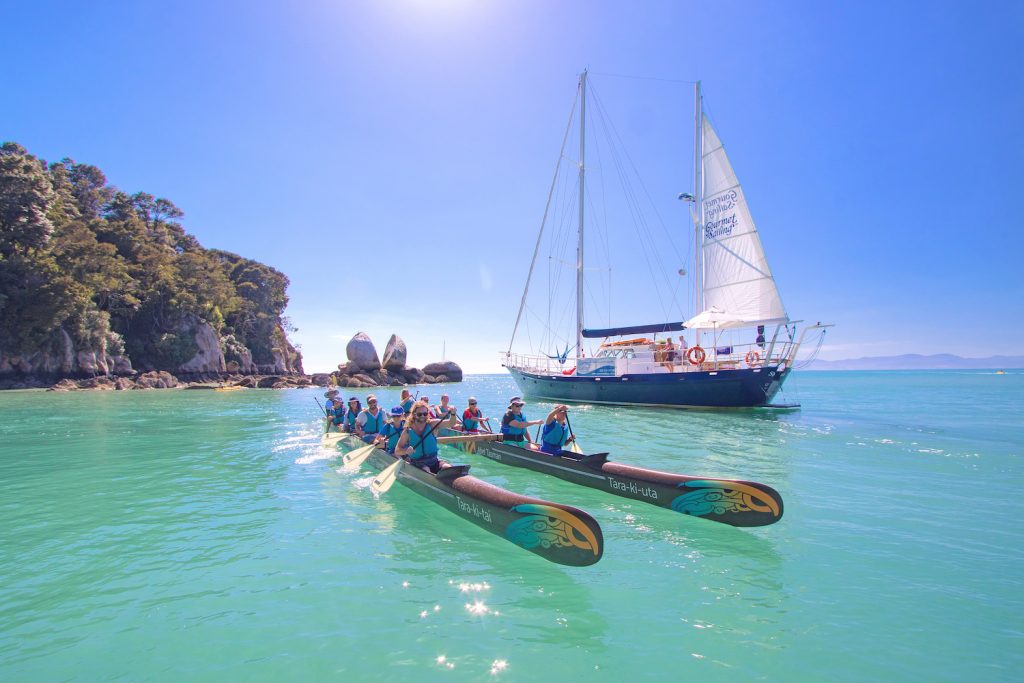 By RENÉE LANG
Take a glorious day. Combine it with a scenic harbour and stir through some sun on your face and a gentle breeze through your hair. Add platters of delicious food. This surely has to be a fail-safe recipe for a slice of the good life.
Milo and Kimberly Coldren, along with Ruby Needham and their dedicated team, operate Gourmet Sailing, a private yacht charter enterprise that's focused on providing guests with a chance to relax, reconnect and refresh. They have been offering fully customised charters around Nelson, Abel Tasman National Park, Golden Bay and the Marlborough Sounds since 2007.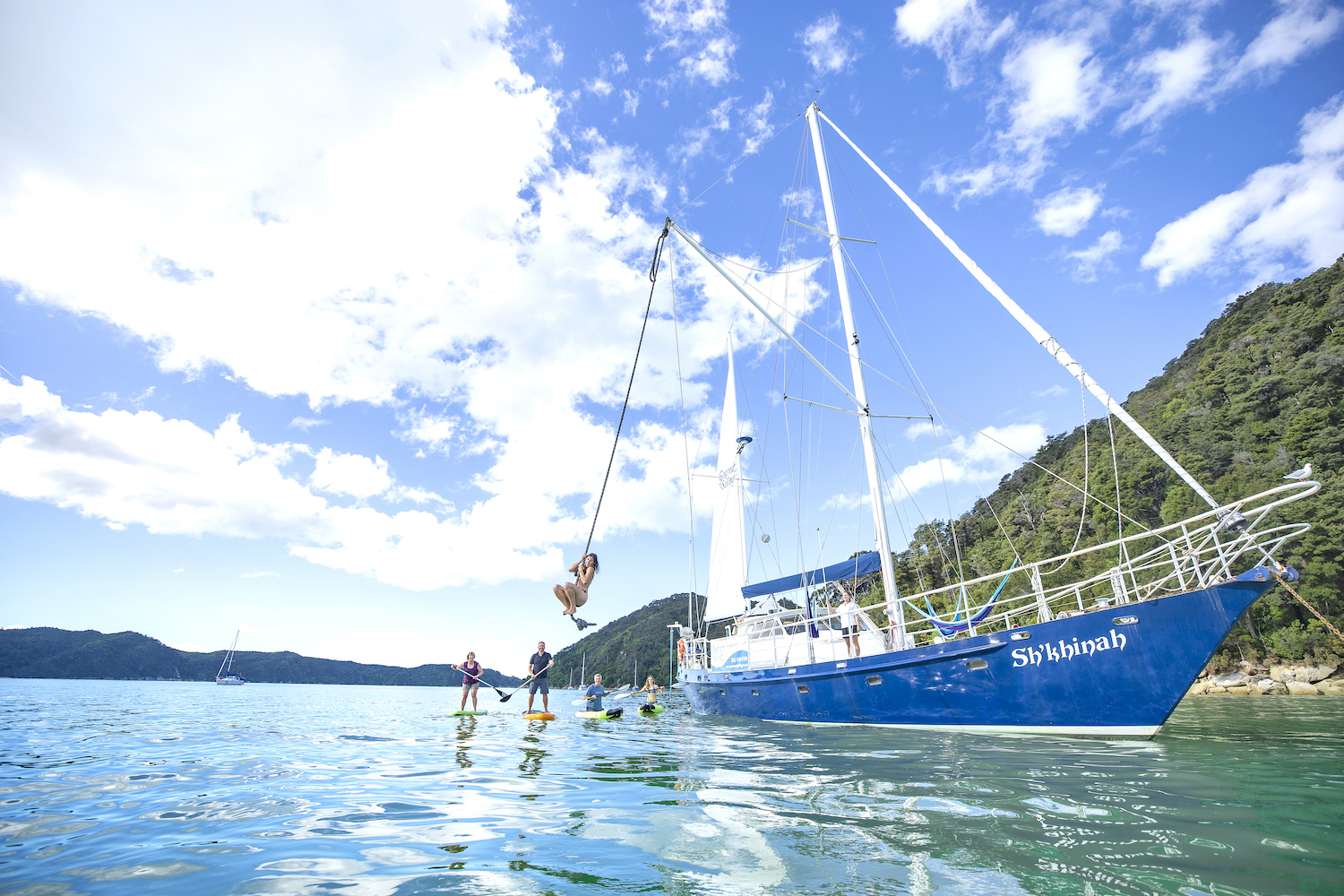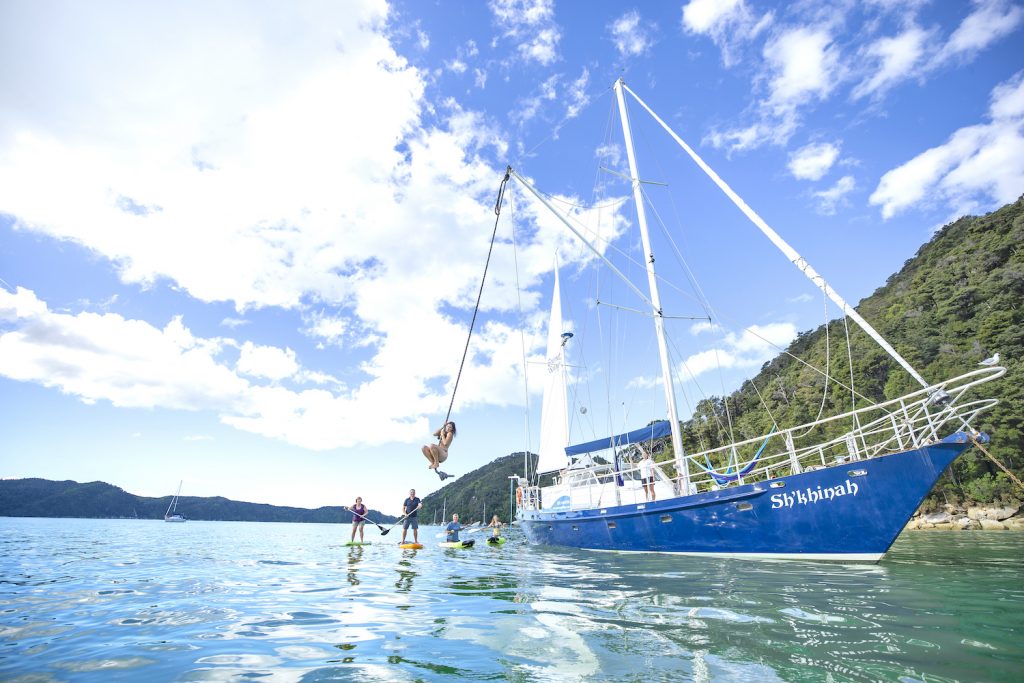 They operate two vessels: a 65-ft ketch that can accommodate up to 40 day guests and a 51-ft yacht that's licensed for 20 day guests. Both vessels are very well equipped with comfortable accommodation for longer charters that can range from overnight to sometimes up to a week or longer.
As for the occasion, or the number of people involved, that's entirely your choice. You might want to celebrate a special occasion with a loved one for half a day. Or treat the family to a weekend on the water. Perhaps you'd like to show your staff your appreciation and take them away from the office or warehouse for a few hours. The possibilities are extremely flexible and it would give Milo and his team great pleasure to look after you, whatever the occasion.
"When we came up with the name for our business we wanted the 'gourmet' part to represent the sailing experience as much as anything," says Milo, "something so wonderful you want to keep doing it." However he is quick to say that the food element is very important, too, and judging by their menus – which include a great range of local produce, including wine – their dedication to delicious food is clear.
In the event of any of their guests having specific food intolerances or allergies, Milo adds that their chefs are really clever at offering food that caters for the specific situation, but doesn't draw attention to it.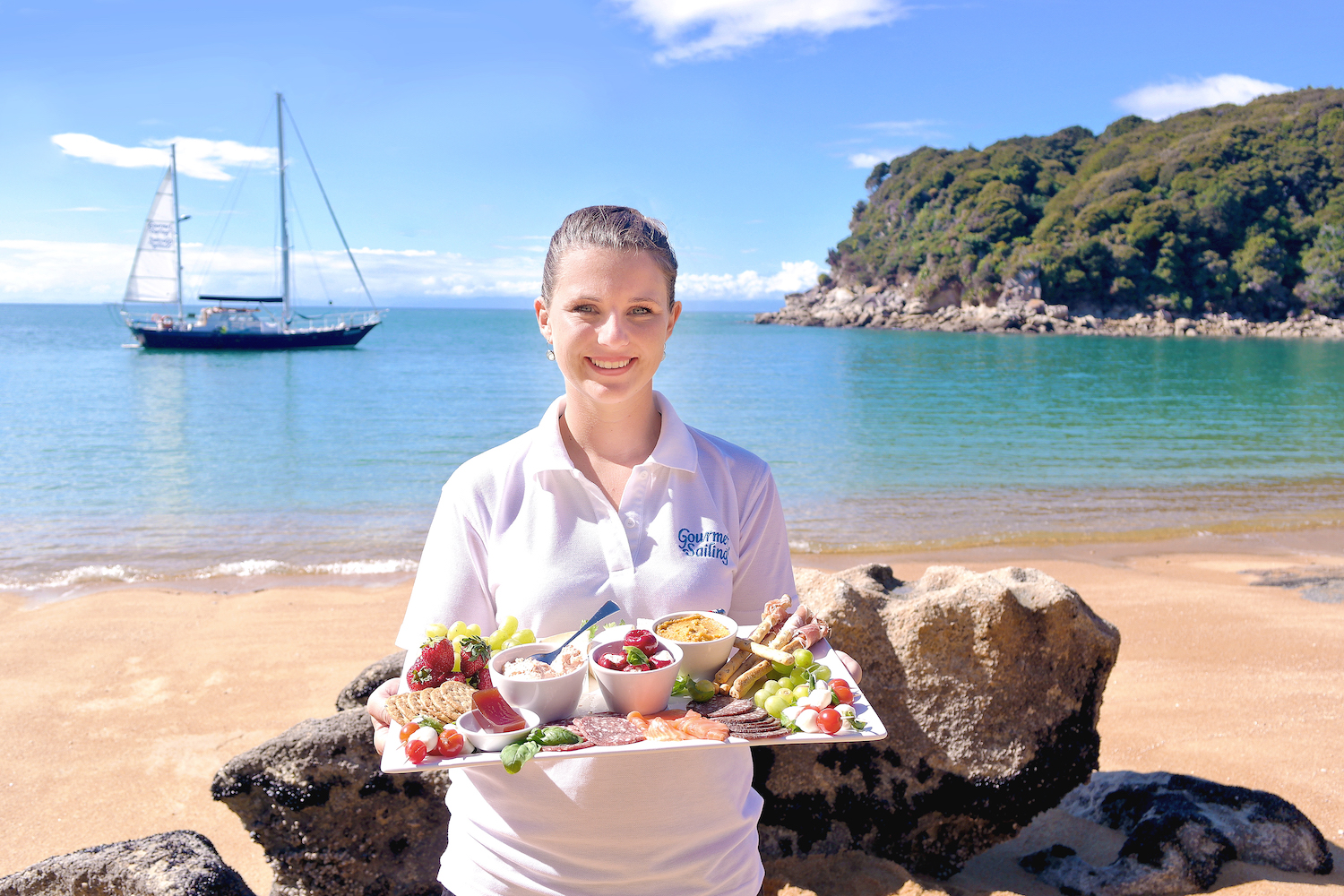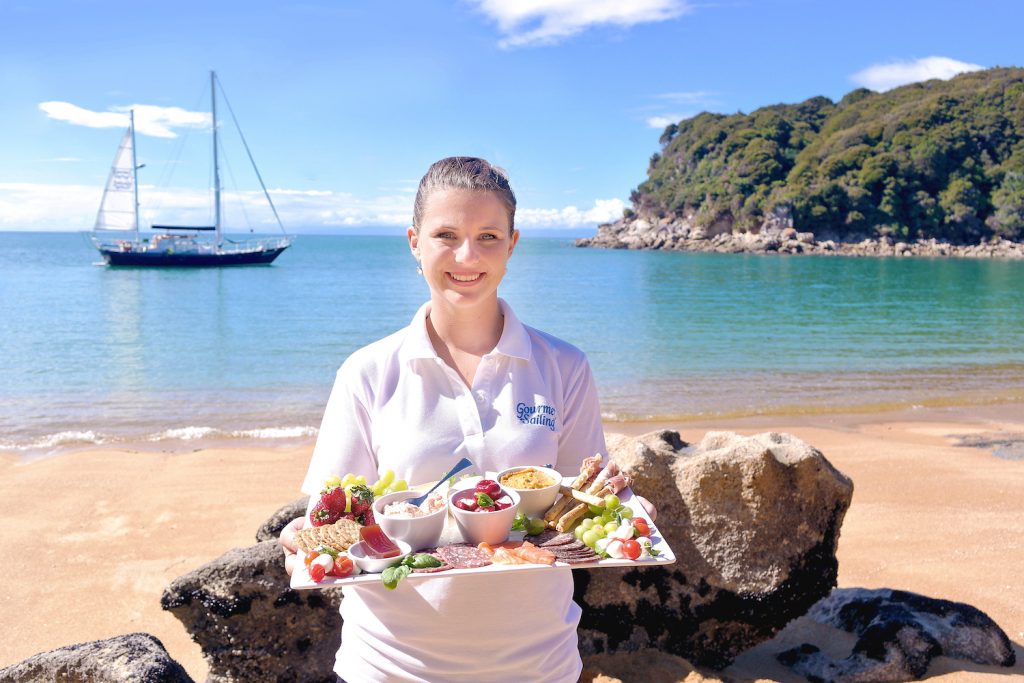 It's also worth noting that every charter comes with a professional stewardess whose job is to look after each and every guest to ensure their time on the boat is as enjoyable as possible, whether they're on board for just a few hours or a week or longer.
The shorter charter options usually include sailing within the harbour or a day exploring the Abel Tasman National Park. Milo recommends adding the waka paddling experience to this particular charter. In this case, the guests paddle a waka into the park and then go for a walk before they are met by the yacht's crew. For international visitors, Milo says it's the perfect introduction to Maori culture.
Although Milo says the most popular time to charter one of the two vessels is between October and the end of summer, given the region's dependable climate it's still possible to enjoy trips out in the middle of winter – the days are usually sunny and flat calm, perfect for exploring on shore then returning to the warmth of the yacht as the sun sets. Milo and Kimberly emphasise that it's all about what the guests want as it's their mission to give them a truly memorable experience."Come sailing with us – it's an unforgettable experience and you'll have memories for a lifetime."
Contact