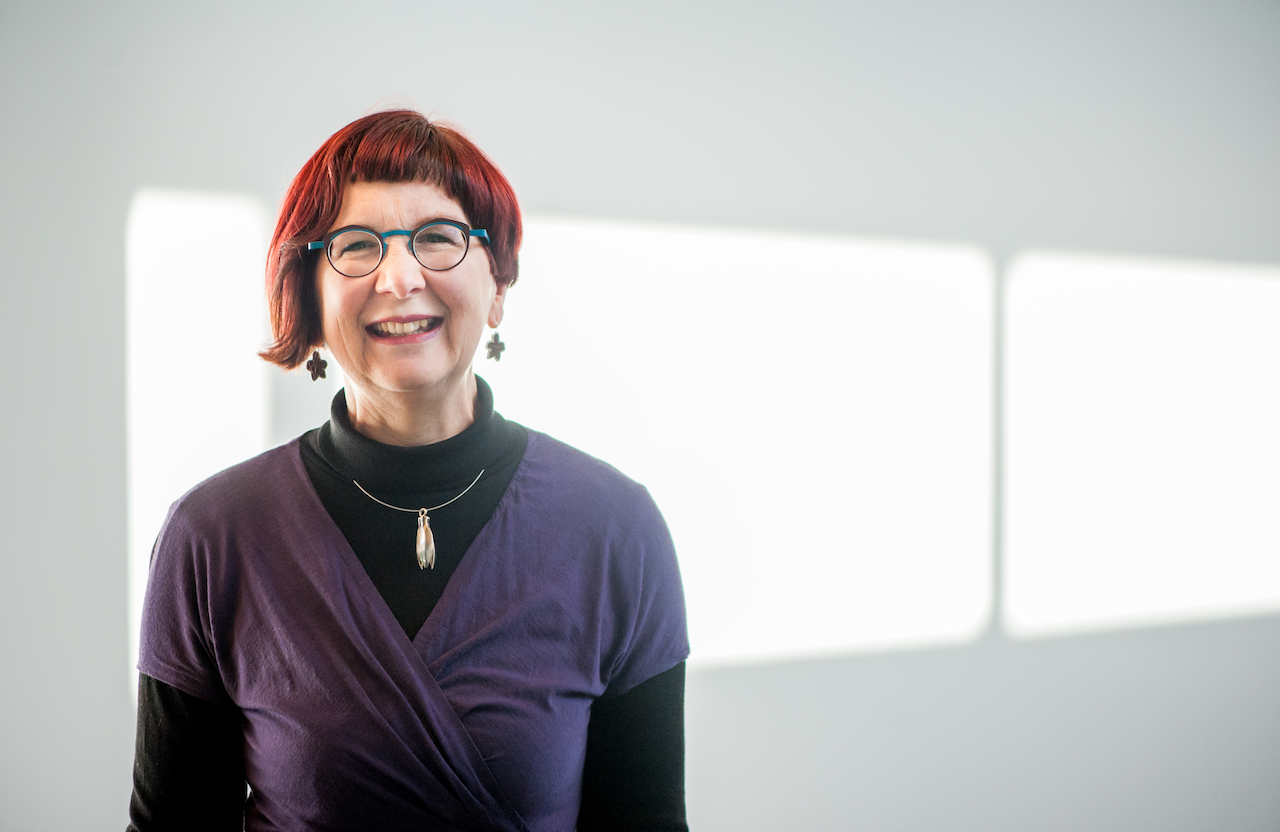 The heart behind art
The refurbished Suter Art Gallery has just won the People's Choice title at the 2017 Nelson/Marlborough Architecture Awards – a fitting tribute to the dedication of its director, Julie Catchpole. Yet there's more to her than art, Di O'Donnell discovers.
As I walk on the boardwalk alongside The Suter, the chatter of café patrons entwines with birdsong. Pieces of sculpture sit amongst natural plantings, giving a sense of the vision of all those involved in the long project.
Entering the gallery, you find a light-filled atrium showing glimpses of history in the original gable, and a large vista of the gardens. Carved Māori motifs on the posts extending down the foyer symbolise another connection that is important here.
During my visit a couple discuss an artwork by Rita Angus, while another man stands in silence quietly contemplating the Colin McCahon before him. Feelings of calm and well-orchestrated order prevail in the public spaces, providing a pristine backdrop from which each individual painting seems to speak of its own story and inspiration.
There are no distractions as visitors contemplate the exhibition; a 'mythical' journey through history from Milk and Honey, The Promised Land and onto Exodus, reflecting more than 200 years of artistic impressions inspired by the unique landscape of this region. By showing the connections formed with other lands, we find what has influenced artists who have either lived or visited here, and how their inspired vision has influenced the development of art in the region and nationally.
Our iconic heritage is displayed and then challenged by newer works seeking to provoke insights into another way of viewing our world. Director Julie Catchpole's background and personality have combined to produce a unique vision for The Suter, which is a strong sense of the environment and the influence of forward-thinking and revolutionary ideas expounding the true sense of New Zealand art. Beyond a cream velvet rope are the stairs that lead to the hub of the building. The workspace is crammed with work in progress, both art and management, which suggests the masterful juggling of many tasks. Desks fill the open space, a light-filled attic reflecting in its shape the garrets of artists from yesteryear. Here is the control tower from which Julie, a woman of vision and a true sense of adventure, transpires to bring about a world-class display of art.
She is dressed for work in practical checked trousers, a dark shirt and sensible black shoes. Her pretty bob and glasses frame and enhance her face and the almost mischievous glint in her eyes.
Julie points out the meeting room where she and others can take time out from the ongoing toil required to run such an institution. This room is also what Julie refers to as their library, where volumes of art books fill the long shelves.
Certainly, inspiration is brought to life here. Walking through the communal area, leftovers from a celebration fill tins, while a simple pottery bowl brimming with shiny apples is its own installation. This room opens onto what Julie calls their tree-house – a simple deck seeming to hang in the trees. Over the balustrade, a tree is full of nests where shags feed their greedy young.
You get an immediate sense of Julie's interest in nature and the joy it brings her. Warm and approachable, she offers coffee or tea as she empties the dishwasher.
Doing art at primary school ignited a lifetime passion, and led her first to Christchurch University's Ilam Art School at age 18. Never having been to Christchurch before, Julie turned up on her first day knowing no-one. Her first winter in Christchurch was 'unbelievably dismal' – 'weeks and weeks of a grey sky, one-storey high'.
Julie acknowledges wryly that it didn't turn out that well – but in another way, it did. She changed to a BA and went on to complete an MA in Art History at Canterbury University, including Religious Studies, American Studies and the Classics. She found that her time at university opened her mind to the world of ideas, and that hunger for knowledge has never abated.
"You can be doing an exhibition about a topic, so you go and learn about that topic, in order to provide interpretation. Then you seek out the artworks, thinking of ways to present them, to try and get that understanding of what the artists are saying. What lies behind their creativity? What is the artwork for the artist? What are they trying to open our eyes up to?"
Julie laughs as she says her eyes are still opening up to what's out there in the art world.
She has worked in both art galleries and museums. Her first job was at the National Art Gallery in Wellington, which at that time was on the first floor of an old building in Buckle St, with the National Museum below. Julie gained the position through the old government PEP scheme of subsidised employment. For some organisations it was the only way they could afford to get extra staff. Julie says it was a wonderful way to get a foot in the door.
The gallery later morphed into The Museum of New Zealand, or Te Papa as we more popularly know it. Working alongside artist and photography expert Peter Ireland, Julie helped in the cataloguing and rehousing of the photography collection. "My first real exposure – forgive my pun – to photography as an art form. I've been interested ever since."
From there Julie went on to a position at The Dowse in Lower Hutt, when James Mack was the director (1981-88). He had a wonderfully eclectic, broad approach in his interests and he could make anything visually interesting, says Julie.
"James really could work magic with what he put together. He could tell a story almost without labels. He's been a very big influence on my approach." The exhibitions James curated and the artists he brought in introduced Julie to ceramic arts, jewellery and other art forms.
She was taught the traditional European linear art history, but in choosing to do a thesis on the Christchurch group of artists known as Bloomsbury South, her research gave a grounding in NZ art history that 'has paid off in dividends in terms of the jobs I've had in the art galleries'.
Julie says New Zealand didn't celebrate itself so much academically in that era. Now universities are structured largely around the artistic expression of all cultures, and no longer assume the Western story of art is the principle we should follow. She went on to become a museums' liaison officer based at Auckland Museum, covering Taupo to the top of the North Island. Julie spent two years providing advice to everything from heritage villages to large art galleries, including working with historic places in the Far North: "An astonishingly rich adventure. I met all sorts, including the little volunteer societies that operated out of Motat (Museum of Transport and Technology) and I was involved with the Waikato Museum moving to the banks of the Waikato River."
Julie then moved to Palmerston North, where she was initially the director of the Manawatu Art Gallery. It combined with the Manawatu Museum and interactive science centre, and Julie was part of rebranding it to Te Manawa. She found it an interesting challenge because the ethos behind the science centre of 'Hands on, minds on' is clearly different from galleries and often the social history museum, she says, "as you don't necessarily want the public's hands on art pieces, though you do want their minds on".
That's not to say each part can't learn from the other. Julie thinks science centres have contributed to the role of volunteers helping to connect visitors with exhibits. Immersive installations and video can help to explain how something works or the principles behind it. Artists can likewise draw attention to something by focusing on the combination of all our senses, using sound, light effects, and even smell.
After living in Palmerston North for 17 years, where her son Callum was born in 1997, the family moved to Wellington. Two days later Julie came to Nelson for the position at The Suter. Callum is now enrolled at Victoria University as a bio-med student, and then in another twist of fate, Julie's husband, Murray McRae, got a job as a lecturer at Massey, so now only Callum is living in Wellington while his parents commute when they can. Callum was a pupil at the Deidre Tarrant Dance School in ballet and is also a gifted writer and musician.
When asked about the constant separation from her family, Julie's poignant reply is: "It has to work." As for relaxation, she grins and says she's forgotten how, and it's something she needs to relearn. She enjoys sewing and other crafts. If she goes to the library, she will head to the adult's non-fiction and movies.
She met Murray through the Wellington Tramping and Mountaineering Club. Their shared love of the outdoors led them to explore many areas in the region during holidays visiting Murray's parents, who used to live here. Julie's busy life means she only occasionally finds the time to go tramping now –  or 'wheezing and gasping' as she terms it with a laugh. She has tramped in the Pelorus, Abel Tasman, Heaphy, Cobb Valley and Mt Arthur area, and not so long ago she went to Lake Angelus at the top of Rotoiti. She is particularly fond of the Pelorus River for its beautiful turquoise blue. For Julie, the area is full of astonishing and magical places and she feels very blessed.
As for her work, "I'm immensely privileged to be part of a project to redevelop a gallery, especially a gallery so well-loved by its community. You don't get many opportunities in a career to be involved with a project of this size and to see it all the way through. It's been fantastic since we opened. Visitors who come in are so positive in their reaction – delighted, thrilled, proud and want to bring anyone they know back. How good is that?
"There is something quite special in Nelson. I can't put my finger on it exactly, but the audience is so much more forthcoming in talking about what they enjoy, their reactions and what they don't like. It's been very good to get that feedback, and the interaction makes it all worthwhile."