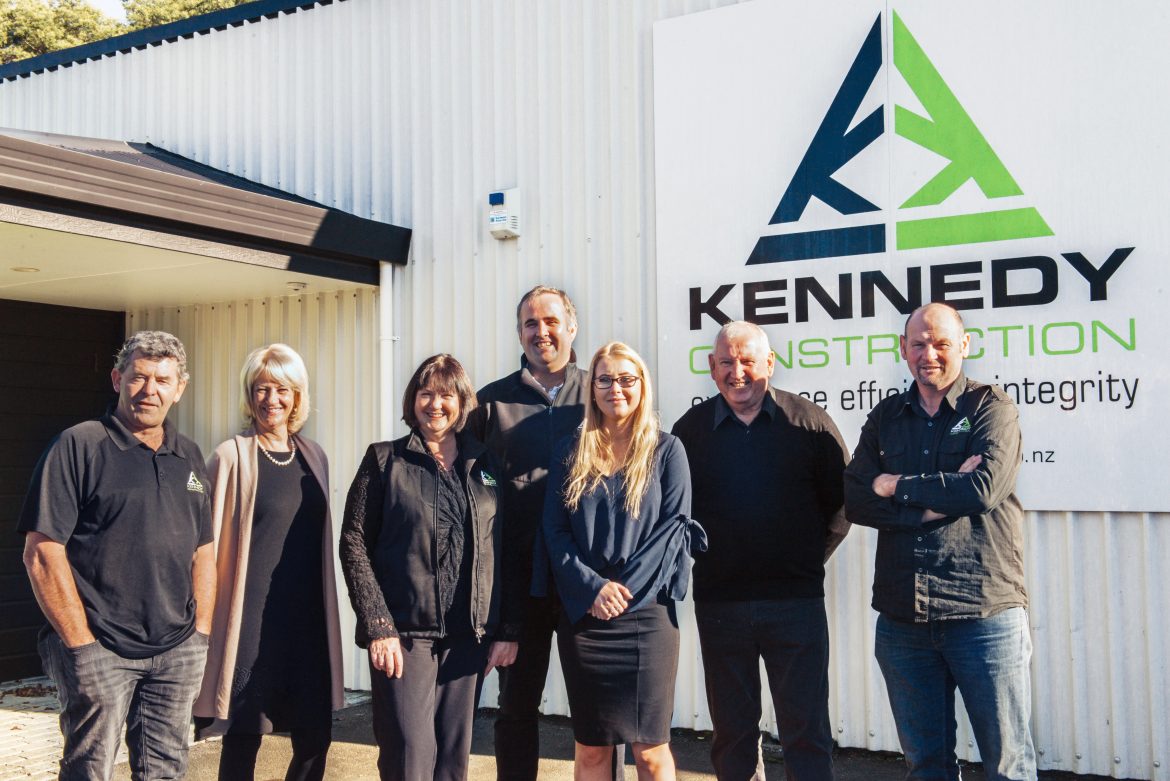 BY SADIE BECKMAN
It's all very well being good at putting together the materials that make a house, but while Kennedy Construction are indeed experts in this, they are an example of a building company that actually looks beyond it to the conceptual level of creating an environment – one that enhances the lives of their clients in ways they may not even have imagined yet.
That's because the main point of difference with this family-owned business is an unrivalled expertise in total project management – including building, earthworks and landscaping. How we live, and fit in with the natural environment, the design, functionality and aesthetics we want from a house or building project – all of these aspects are as much a part of the foundations as the concrete, metal or wood beneath our feet, according to the philosophy of this successful, sustainability-focused building company.
Managing Director Neil Kennedy says taking stock of the whole picture, from design right through to completion, is a holistic approach that demonstrates the company understands their clients want the best – which is exactly what they will get.
"In the building industry, reputation counts for everything. Long-term success demands integrity, efficiency, excellence in design and quality, as well as transparency and communication," he says.
"We put these values at the very heart of everything we do."
And while awareness of the immediate environment of a build is vital to Kennedy Construction's approach, the wider natural environment is certainly firmly on the radar too.
The company is proud of its sustainability focus, and makes sure practices aim to use materials and methods that reduce environmental impact, minimise waste, energy and water usage.
Business Operations Manager Laird Kennedy says more and more clients have sustainability requirements for their sites, buildings or renovations.
"Together we want to ensure we deliver on our duty of care towards future generations," he says.
"We manage our sites well, minimise any disruption to others and are efficient with the resources we use on site."
Neil, who has over 30 years' experience in the building industry, co-directs the business, alongside wife Jane. As part of a management team that includes Laird, quantity surveyor Adrian Blake, Project Manager Phil Johnson and office extraordinaire Claire Hodgson, the couple are proud of the way the business is committed to understanding the needs of its customers.
"With no corporate hierarchy our clients find us easy to talk to and appreciate that the lines of communication are always wide open," says Jane.
"You will always know where you stand with us."
And it's not just the clients Kennedy Construction looks after. Their staff and contractors are known for their positive attitude and strong work ethic – something that happens when workers feel valued.
The company works with subcontractors, suppliers and clients as well as other experts such as designers and architects – the latter being an industry Kennedy Construction have concentrated on pairing with, as they notice an upward trend in the architectural market. Laird explains this relationship-building adds to the scope of expertise the company can offer.
"The company is developing in terms of the type of projects we can undertake, however, we cater for a complete spectrum of budgets," he says.
"Whether it's your first home, or your 15th, our aim is that you're still going to achieve that dream."
Contact