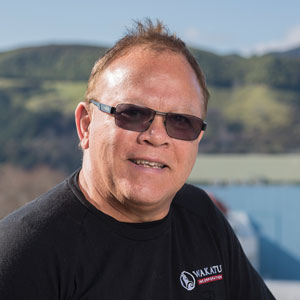 After growing up in Wellington, rough-necking on oil rigs, and travelling the world he joined Wakatu Incorporation, rising to become Chairman
BY JACK MARTIN
Tell me about your family.
My father left Motueka near the end of The Depression and went to Wellington to join the army, but he missed the cut-off on the medical side and ended up doing an apprenticeship with Fletcher Building. He worked with a business partner for 10 years, then Dad ran his own construction company in Wellington. He used to buy land and develop it, which is the heart of what we do here. So we were brought up in subdivisions among bulldozers.
Dad retired at about 52. That time, mid-60s and 70s, was a huge time of change in the Maori community with land and things, so Dad was very much involved with family events and had me involved as a very young teenager, taking me around to hui so I would learn through osmosis.
What did you do next?
I was interested in a career in architecture. There was only one school, in Auckland, with 25 places and it was damn difficult to get in. I went to university and didn't make the cut. I decided to go overseas.  Later I went back to University and completed post-graduate studies in business management.
I went with a friend of mine to the States. We ended up in New Orleans and worked in the Gulf of Mexico. I was rough-necking with the Penrod Drilling Company. We were on a huge semi-submersible rig. We flew to work in helicopters. It was a seven-on, seven-off but I worked 28-on, 28-off and that allowed me to go into Mexico and Central America and enjoy that part of the world. So I stayed on there for some time, and ended up going to the UK. Spent time in London before coming home in 1981.
What were you doing in London?
I worked for an oil company. My sister's partner had a firm there. They were involved in real estate; in servicing Middle Eastern clientele. Life as a single man in London was good. I met a great diversity of people. I've got five brothers and sisters. All of us were overseas, so I thought it was time to come home and help Dad.
What did you do then?
I came home with a partner and two beautiful girls. I married, we settled in Wellington and built a home. Having been the son of a builder, I was pretty handy, so I designed and built my own home in Khandallah.
Through the '80s there was a lot going on with natural resources and rights issues. We had the fisheries process, the forestry issues and court case with the Government around ownership of land that went right through to the Court of Appeal and the landmark decision requiring the Government to negotiate.
I was part of that until the late '80s and effectively I was doing a fulltime job, and then I stood in 1986 and got voted onto the Wakatu board.
Tell us about Wakatu. 
Wakatu was created in 1977. I stood in '86, having talked to the aunties all over the place. They voted me onto the board at the tender age of 32, which is very young in the Maori community. But they saw something in me – they're pretty astute old birds!
There was a lot of work to do. We took our assets back in '77. They had been appallingly administered – locked up by legislation in perpetual leases and leased to other people. We got a bare minimum peppercorn rental. We couldn't legally walk on or access our land.
It was a residual estate that had come out of the New Zealand Company Nelson Tenths Estate, and some of the reserves in Motueka and Golden Bay. It wasn't in good shape due to poor Government administration over many years.
In the early '90s there was work, travelling, family, university and all the issues of the day which I was involved with – I've always been flat out, really. I got to know the Maori community and New Zealanders who were either in power through Government or very influential people. They were formative years for me in thinking through strategy and to get things done at all levels within our community.
What have the assets of Wakatu grown to?
When the owners took over in 1977 we had about $11m worth of land, and today we're probably managing almost $330m worth of assets. We have land, water and other operational assets such as Winery's and factories that make up our business.
There are big issues in terms of giving our people the insight of how you can create success in a number of ways, whether that be your contribution to the community, the employment of people, producing goods and services, or just having influence within your own and wider community.
What do you think of the local authorities?
We've got three in our area, because we operate from the Tasman Sea to the Awatere Valley. We've got two councils here and one over the hill. Our view is clear: we need one local authority. As a region, we need a vision and strategies that are good for the region.  We want strategies that support and attract our people, especially our young people to this area.
What do you think about the Southern Link?
The ideal thing is to move towards forms of public transport that are low carbon emissions; make provision for more cycling and people being able to move around the city in a number of ways.  Modern cities are reshaping themselves. They're closing the inner-city off to cars, and putting people back on the footpath and on bicycles. Here in Nelson we could have more of that.
What else would you like to see in the CBD?
One of its problems – and one of its strengths – is those lovely little 'boutiquey' buildings, but a lot of them are very tired and don't meet the earthquake requirements, so to be able to meet the modern terms for retail, it's difficult.
Nelson should go the same way as Wellington – commercial, light commercial, retail and people living in the city. That generates night-time activity and enlivens the city by attracting people to live and work here.
Do you think Rachel Reese and this Council have done anything in that regard?
There are a few initiatives underway and I think the Council is committed to developing the inner city, however there is still a great deal to do. I've just come back from Wellington, and the energy is huge because there's so many people living in apartments in the city. The CBD is alive seven days a week. Nelson's got to change and go that way. Some of the older buildings need redevelopment to achieve better-quality, multi-purpose developments.
What about the gondola project up Fringed Hill?
New Zealand will have to invest more in events and infrastructure to support people coming here.  We've got to do it in a smart way, using clean technology and environmentally built into the landscape.
There's a beautiful gondola near Port Douglas in one of the national parks that goes through the forest.  It just whisks through the trees. It stops off at an education place; it captures the Aboriginal people's relationship with that place – fantastic.  A similar project could work in Nelson but would need to be supported by an overall strategy to bring tourists to our region.
Any thoughts on Nick Smith?
He's a bit contentious at the moment, in terms of his responsibilities for a number of issues and how those are managed.  In terms of his personal skills, he's worked bloody hard for our region and he's obviously got a strong focus on  the environment.
His engineering background is great in terms of his skills around the housing shortage for example, but if you think about things like the Kermadec legal challenge which is happening at the moment, there are serious issues at stake which have not been well managed by the current Government. They're three terms in and that's the time when you've really got to think through your processes of engaging with communities, not being arrogant and ensuring that you maintain and build relationships.
Do you think they've become arrogant?
They're in a hurry to get things done as part of their legacy so they're perhaps not talking enough to stakeholders and partners. People will get annoyed with this approach, momentum builds and they may demonstrate that they had enough – and it comes through in the ballot box.
Which senior politicians have been best to work with in your time?
David Lange; his intellect was famous. I was talking to a guy the other day and we were having a laugh about Lange's great oratory at Oxford in that great debate. He came at a time of huge change. Labour just rolled it out. They made a lot of mistakes, but also led some necessary changes.
This was privatisation, deregulation?
Yes. The whole notion of the state, subsidising commercial activity is a bit unrealistic, and effectively we were bankrupt when Labour came into power in 1984.
The first thing Labour did was remove the agricultural subsidies.  No longer did that sector get the subsidies and they had to work out a way to survive and prosper.  The agri-business has done well, but it's taken a lot of hard work and time.  We're probably one of the only countries in the world with a fully market-driven system. It's also shown through in science, technology, productivity, innovation. There has been massive change over the past thirty years.
Are there any large changes of that sort you would like the state to do?
In terms of where New Zealand's at compared with other countries in the world –  the 'good country' index, how we are perceived – we're sitting in a reasonably good place in terms of the ability to do business in New Zealand, our regulatory environment and our commitment to sustainability.  But in other ways, we have a very long way to go in terms of addressing children's wellbeing and welfare, the gross inequity in incomes and the growing gap between the rich and poor. These are really important issues that we need to resolve as a country.
What do you think of the TPPA?
Our company relies on global trade and exporting – we don't produce just for New Zealand.  The issues of sovereignty and us trading away our democratic rights to make decisions, undermining the judicial processes of courts, our indigenous property rights and intellectual property are very serious matters and require a lot of consideration.
From the Wakatu perspective, we must have trade, but the TPPA's not such a material deal. The US, Canada and Japan haven't removed a hundred billion-plus subsidies on dairy. There would be minimal gains from a trade point of view. We've got a real problem in the world because there's disinflation in some markets, people are not spending, there is massive youth unemployment in many parts of Europe.  What we want is for our global partners to be growing and trade agreements by themselves will not achieve that.
Your thoughts on the flag referendum? 
That whole process was before its time. We will change the flag, but hopefully there'll be a logical process as to why we need to change. The flag is part of the bigger picture around our lack of a written constitution. As a country we need one.
There's so many things that need to be done. We have to address our education system and what we teach in the curriculum in New Zealand history, or the lack of it.  Generally, New Zealanders are ignorant of the history of their country.  Our education system is still doing a poor job of teaching the history and until this is rectified it will be difficult to progress constitutional discussions and discussions about nationhood in our country.
So what do you think about race relations in New Zealand?
Relative to other countries, we're in a reasonably good place, but we could do better. My mother is 99 years' old. She was brought up in a native Maori village and her first language is Maori.  When she first went to Wellington at the age of 18, she couldn't speak English. She was a complete stranger to the Pakeha world. It's different today, with people living in the cities and many Maori are now very highly educated and experienced in the Maori and Pakeha worlds.
Today, Maori and Pakeha play sport together, inter-married, and there has been a lot of social interaction but we really haven't had an in-depth discussion about our collective culture, what we believe in, our value set and our common history and aspirations as New Zealanders.
What are the differences in culture and value set between Maori and Pakeha?
The most important thing in Maori culture is our genealogy, our whakapapa – who we are and who we come from.  As an example, I know my whakapapa back to the ancient explorers and travellers in my genealogy. Many Maori do, and this is something that is not necessarily well understood by Pakeha.
We believe that those people who have gone before us, their DNA is in us. We view ourselves as part of the natural world and that's very important for us because it ensures the balance between people and all other living things is maintained.
The need to respect the environment and the mauri or life force of a place, whether it be in our rivers or other water sources and understanding that the health of these places contributes to the whole, is still very important to Maori.
Western culture or Pakeha culture, in comparison focuses on the individual and the rights and health of the individual. From a cultural perspective, there is less emphasis on the environment, the extended family and obligations to the broader community and natural world.
Colonisation has had a huge impact on all of this, but where Maori people have maintained their culture and connectivity to their land and to each other, it's an enormously strong and empowering thing.  Wakatu is a great example. We're not just a business, we're actually a family business committed to empowering and developing each other.  We're a large family business.
So the profits of Wakatu get distributed to …
The shareholders, who are the families of the descendants of the original Maori owners of Nelson, Motueka and Golden Bay.  Profit is distributed to the families via dividends and we also make contributions to the community in a number of ways, such as direct contributions and sponsorships.   We don't advertise it a lot, but we invest in marae, cultural activities, kapa haka, waka ama, events that are focused on health and culture.
So you do welfare as well?
No, we do not provide welfare.  We provide opportunities to people to help them themselves and their families.  Our educational and professional development programmes are examples.
What do you think about welfare generally?
I was part of a group many years ago that fronted up to a Royal Commission of Inquiry. We formally asked to be removed from the benefit system, for all Maori. They sat there, a mix of Maori and Pakeha on the panel, and they said, "What will we do with all the Pakeha?" We said, "If you want to keep providing them with welfare, that's kei te pai, but it's time for Maori to stand on their own feet and not be hooked into this horrible system."
So you would get rid of the welfare system?
There obviously has to be some state support at some levels of society.  In Maori terms we had our own system of welfare and caring for one another – it's called whanaungatanga; the way we work together as families and communities.
The concept of the extended family, the hapu, was our social welfare system. Everyone had to work and make a contribution according to their skills.  Elders were especially revered because of the knowledge and leadership abilities they had. They continued to have an important role once their working lives were over.
Should New Zealand become a republic?
Yes, and I believe it will in time. It will be a difficult journey to go on with Maoridom because of the relationship to the Queen, the constitutional arrangements and the Treaty, and the fact that there is unfinished business.
Is Wakatu pushing for a constitution?
Yes. We want the debate on the constitution.
Is the current Government receptive to that?
No. There's working committees that have been doing work around it for years. It's an evolving process that will eventually get us a draft constitution, but that will require a lot of work and consultation with the community. We need a constitution. In a Westminster system 50.1 percent gets through radical change and in some areas that threshold should be subject to 75%.
Which areas?
Areas around fundamental human rights, the role of the Courts and the role of Parliament.  There will be other issues of fundamental importance that will be identified as we work through the discussion, including the Treaty of Waitangi.
Would you use a referendum to get that mandate?
In Switzerland they have about 25 referendums a year. The technology is there now that allows this but if you talk to politicians, they say they're voted in, they'll make the call and they don't necessarily like that kind of system because it makes them more accountable.
However, populations should be able to participate in a living democracy and politicians must represent the views of their electorate.  A major challenge for politicians will be to understand that the country's demographic is changing rapidly, within 50 years, the majority of New Zealand's population will be brown and Asian.  Pakeha New Zealanders will be in the minority and this will change the face of politics and decision-making.
Our society is multicultural society, but the founding partnership of the Maori and Pakeha relationship is very important and is the basis of power sharing and constitutional legitimacy in New Zealand.
What do you do when you're not working?
We have a beautiful block of family land at Marahau which is available for all Wakatu families to use.  I've got young children. They've had all their holidays there, meet up with all the relations, play with other kids, learn to kayak, ride a bike and spend time near the national park, which is where our families come from.
I travel, which I love. I'd like to go to the Galapagos and the Amazon.
I love fishing, swimming, boating. We go out to D'Urville Island to fish and enjoy all the things our region has to offer.
I was diving next to Maud Island yesterday. We got 14 crays, moki, cod …
We're very fortunate. From the time I was really young, we were sea people. Dad lived on the Motueka River so we were into fishing and everything associated with water.
Some days I just like to stay home. Last week, it was just people all week, culminating in an owners' meeting in Wellington.  So at the end of a busy week it is good to come home and relax.
Film, TV … anything you like in particular?
I don't have a lot of time to watch television. I watch Q and A, Native Affairs. It's my job to be conversant and to keep up with everything that is going on in New Zealand and internationally.  It's become particularly important internationally because Wakatu operates around the world, and we need to make sure we are conversant with what is happening in key markets.
Where do you like to go out in town? 
The seafood restaurants. I like the Boatshed – we have a lot of business meetings down there – and the Urban Eatery. I like the Indian cuisine in town and I would love to see some great Asian restaurants.
Anything else you'd like to talk about?
We're awaiting our Supreme Court decision. This relates to a case taken on behalf of the original Maori owners of Nelson, Motueka and Golden Bay against the Crown. We've been on a very long journey with the case in regard to the Crown's legal obligations as a trustee of the Nelson Tenths Reserves estate.  The case stems from the settlement of Nelson by the Crown and the New Zealand Company, and the Crown's failure to reserve the full one-tenth of land for the Maori owners as guaranteed by a Crown Grant signed in 1845. This legal dispute requires resolution with the Crown and it's a separate process from the Treaty settlement process, which was not focused on breaches of the law.
What are the potential outcomes?
We've won on the facts at all levels of the courts. The legal principles are complex and will require the full attention of the Supreme Court judges to resolve.  There are a number of potential outcomes and we'll be in a position to consider them once we receive the result.
When will the case be announced? 
We don't know, the Supreme Court hears very few cases each year but the cases it hears are complex and important cases.  So, we just have to wait until the case is delivered along with everyone else.
Anything else?
I am very proud of our people and what has been achieved over the last thirty years in particular.  They have done so well, especially when you consider the difficult history and the poverty that many families have experienced.  There is still a lot to do, however there is a lot of positivity about our future.