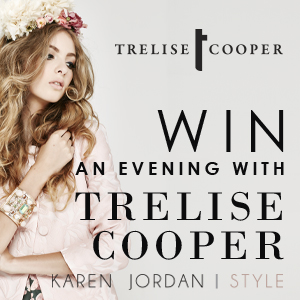 READ MAGAZINE
Kiwi fashion icon Dame Trelise Cooper will be in Nelson to show off her latest collection on September 1. LYNDA PAPESCH took the opportunity to talk to her about fashion, philosophy and life.
BY LYNDA PAPESCH
Remember as a young girl playing dress up with your mother's clothes? Dame Trelise Cooper most definitely does. Those early days delving into the dress-up chest with her young friends, followed by a love of stage, theatre and textiles set her feet firmly on the  catwalk of fashion … although it took her a few years to make her first bold step.
The young Trelise dreamt big and followed her dream, working long hours to turn it into reality. Three decades on from opening her first small boutique in Auckland in 1985, Dame Trelise is head of her own international fashion empire, with 10 flagship stores and more than 200 independent retail stockists worldwide. And there's much, much more to her.  She's also an advocate for breast cancer, domestic violence awareness, Habitat for Humanity, a youth group mentor and an integral part of MARITAGE International – a United Nations partner organisation connecting women in developed and developing countries.
In 2004, Trelise was named a Member of the New Zealand Order of Merit and two years ago was elevated to Dame Companion in the same Order.
She's come a long way in a relatively short time. Today the Trelise Cooper brand includes four distinct labels: the bespoke Trelise Cooper range, the more casual Cooper collection, COOP for the younger fashionistas and Boardroom for successful businesswomen. Adding to that are successful homeware lines, eyewear and more. New ideas come from everywhere and she is always looking for those special touches to add to the ranges.
For as long as Trelise can remember clothes, shoes, and dressing up have been an inherent part of her life; her inbuilt psyche. The drive, determination and self-help ideology grew along the way, assisted in part by a few personal growth courses, but largely due to her own passions and actions.
A budding fashionista
From about the age of four, Trelise vividly remembers loving clothes, the feel of fabrics, shoes, make-up and jewellery. She spent hours playing dress-up with her friends and even at a young age creating frilly, feminine outfits.
By the age of eight, the young Trelise was having singing lessons and joined the Auckland Children's Light Opera group, an event that yet again helped shape her love of fashion. "I adored it; the costumes, the tulle, the big theatrical dresses, the fabrics."  Back then it never occurred to her to make a career out of fashion. "My career aspiration was to grow up, marry and have a family. No-one ever talked about being a fashion designer!" Leaving school at 15, she trained as a shorthand/typist and then started job hunting. "One came up for a house model and that looked interesting so I did shoe modelling for two years. I was given the shoes and then found the clothes to go with them which sparked by interest in fashion even more."
A brief marriage and divorce later, Trelise started – in 1979 – at Amco Jeans as a house model, a job she loved. She met her second husband Jack who also worked at Amco and often travelled with him on buying and fashion trips to Europe. By that time the fashion designer gene was thriving in Trelise, screaming to be let out. Frustrated by being on the periphery and knowing she could "do much better," she decided it was her time.  A couple of personal growth courses helped crystalise what she wanted to do.
"I had no formal training in fashion design, just a true burning desire. For me it was about turning that desire into reality and living the dream. Where I am today is because of those early days of going for it."
Anyone can dream and have an idea, she says. "It's what you do with it that counts. I'm an action person whereas a lot of people go nowhere because they don't take any action." Taking action – even one small step at a time – is vastly important, she adds, and it is still her mantra all these years later.
Her first step with a "dream" or project is to write it down as if it has already occurred. "I had written down that I wanted a store. I wanted it to be light and airy and in High Street in Auckland which at that time was the mecca of shopping." Having spotted a dry-cleaning store she felt would be suitable, Trelise approached the owner, asking if he wanted to move. The answer was no, until she mentioned she had $10,000.
The store wasn't particularly wonderful but it was in the right location. Weeks of hard work went into fitting it out, along with designing and creating her first collection. "I remember sitting here at 3am ironing clothes and having self-doubts."
Life has taught Trelise that confidence comes with taking action, and that as confidence builds those actions do too. "It's determination and ambition; to know that you can turn your dreams reality."
Her dream took off from that very first day in 1985. "Everything sold … on the first day. My predicted turnover for the week I did in a day; my turnover for that first week was what I'd hoped to achieve in a month."
The in-between years
She spent her first five years in fashion between 1984 and 1988/89 before taking a break with her first baby. "It was the end of 1996/ early 1997 that I began the business I have now. At times there were hiccups, and sure, sometimes I felt like I was treading water, but I just kept using all the things I had learned along the way."
By the time turnover reached $5 million (in the 1990s), she decided she was successful and maybe it was time to relax a bit. Handing over some of company reins to others, however, created problems further down the line until – always a woman of action – Trelise took back the running of the company. The trimmed down version is a highly efficient team of dedicated people who continually use their initiative and prove themselves indispensable. "I have a great team, many who have been with me a long time. Together we are a great bank of knowledge."
She's her own fiercest critic. "I am hard on myself, but that's what works for me. I remember waking in the night rigid with fear that a collection might not be right, or something would go wrong. That's the problem. As you get bigger (your business), the risks are bigger too.
"Now I have a staff of 120 to 150 and I am responsible for them. So I fear whether my range will be successful enough to pay them, to feed their families etc. At the end of the day, I am in charge. It's my brand, my reputation and the buck stops with me."
In the fickle fashion world it's important not to rest on your laurels, she says. "Fashion is so competitive especially with online shopping. Competition is only a flick of a computer key away. We face totally global competition so have to be ahead of the change, always willing to come up with new ideas, new ways of business."
Husband Jack developed the online store which has turned into the brand's largest store, bigger even than Parnell in turnover. "It's an amazing adjunct to the business."
And while her brands sell internationally, 50 percent of her market is still in New Zealand. Both New Zealand and Australia are important markets for the Trelise Cooper collections, although having been burnt, she is very selective about dealing with other international markets.
That said, she finds much of her design inspiration on her travels. A dedicated follow of fashion, Trelise travels constantly to textile fairs in exotic and exciting locations such as Paris, Shanghai, Tokyo, Korea, Morocco, Mexico, Los Angles, New York seeking inspiration and adding to her own wardrobe along the way. "That's what I love about fashion; it's the best job ever. I'm doing something I love and I also get to shop all over the world," she adds, admitting to having a "huge" wardrobe.
"If you love fashion, it doesn't ever leave you. What changes though is fashion. It's all about change, the styles, the colours, the ideas; more of a redirection you could say."
Looking ahead
Designing for four seasons a year and four brands each season doesn't leave much time for anything but fashion, however Trelise is able to  channel her inner domestic goddess and combine it with fashion when she visits the family holiday getaway in a small village in the South of France.
As always she's inspired by her environment. "I love coming to France and seeing their take on interiors for instance. Modern yet classically French; I'm totally inspired about what they re-create etc.  It's a tiny medieval village in the middle of nowhere in the Dordogne yet it has a massive history.  Half our house for instance is 600-years-old, rustic with lots of stone and a big garden."
The garden is often where Trelise indulges her inner goddess, pottering amongst the fruit trees or the veges. "It's so tranquil; only the sound of birdsong and church bells."
She's at the stage now where she's like to pull back a bit and spend more time with family, including her son who lives in New York City. "That's definitely part of my future, as is New Zealand. I may travel far and often, but I will never leave here," she says.
Nelson too has been a regular part of her travel itinerary over the years, both on business, seeking inspiration and quiet family time. "I adore Nelson. It's one of the honey spots of New Zealand; I think I could retire there."
Trelise enjoys attending fashion events such as the one on September 1 at Karen Jordan Style in Nelson. For her it's a chance to meet the stockists and the women who love her clothes; many of them long-term clients in both respects. Meeting and talking with them is part of her ongoing dream, one of the less-tiring aspects of the job.
"Remember that you only get to have your dream with hard work; it doesn't just fall into your lap. Yet when you are living your dream, every day is a person al growth day, a new challenge, a new expansion of your thinking and attitude."
Hers is one dream worth having and not a bad one for a girl who grew up in a state house in Otara!